QUOTATION
Full Automatic Oats ChocolateProduction and Packing Line (24 Ton/day)WholeSolution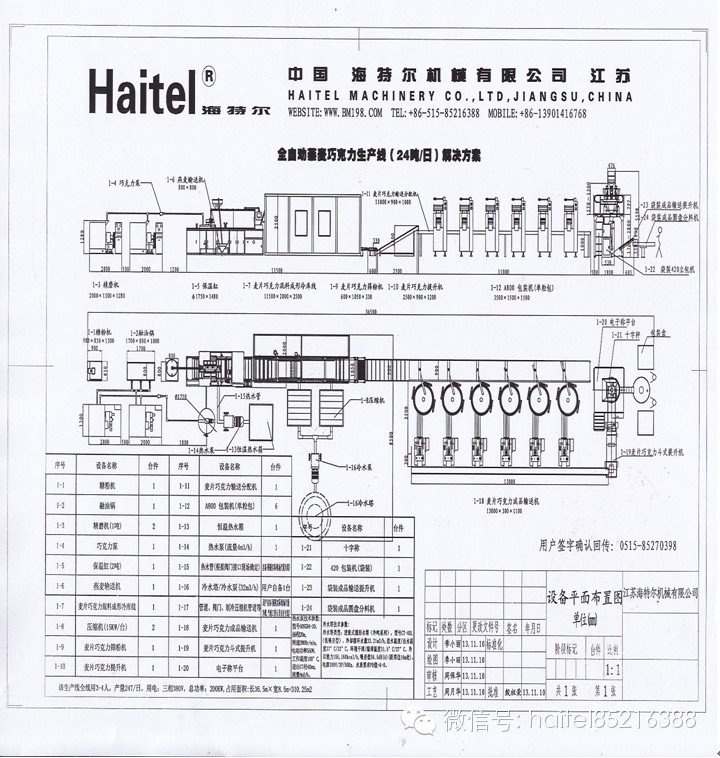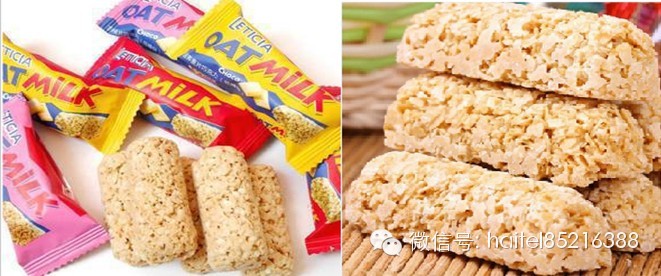 DetailedIntroduction
1-1 HTL-30 Sugar Grinding Machine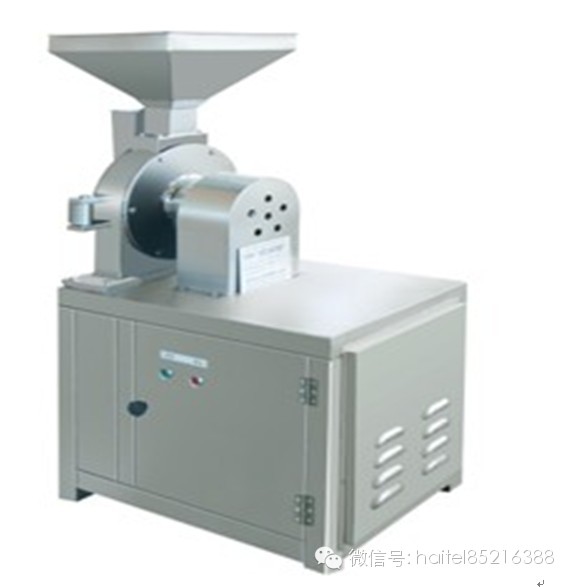 Working Principle:
It's used for candy, medical and otherproducts, use very extensive. This machine use the high speed relative movementbetween activities fluted discs and fixed fluted discs,which makes the materials to be crushed by the fluted discs impacting, rubbingand shocking with each other and so on combined action. The machine hascharacteristics of simple but robust structure and smooth running which ensurethe good effect of crushing. The crushed material will be directly dischargedby the host grinding chamber. Particle sizes are obtained by changing differentpore sizes of the mesh screen.
Features:
All through the casing wall is machinedto achieve smooth surface, thus changing the phenomenon of normal rough wallmachine easy sticking the powder. It can do less waste and less pollution. Themachine makes food, pharmaceutical, chemical and other production more in linewith national standards and GMP requirements.
Application:
The machine is used for candy, medicaland chemical industry material crushing. It is also used for many kinds ofblock materials, low oil content of grain and other hard, brittle materials. Itis prohibited smash inflammable and explosive objects.
Technical parameter and price:
| | |
| --- | --- |
| Type | HTL-T30 |
| Output | 200~300 kg/h |
| Speed of spindle | 3800 r/min |
| Size of feeding material | 10 mm |
| Powder fineness | 30~120 mesh |
| Power | 5.5 KW |
| Weight | 320 kg |
| Dimension (L*W*H) | 600×700×1450 mm |
1-2 HTL-T1000OilMelting Tank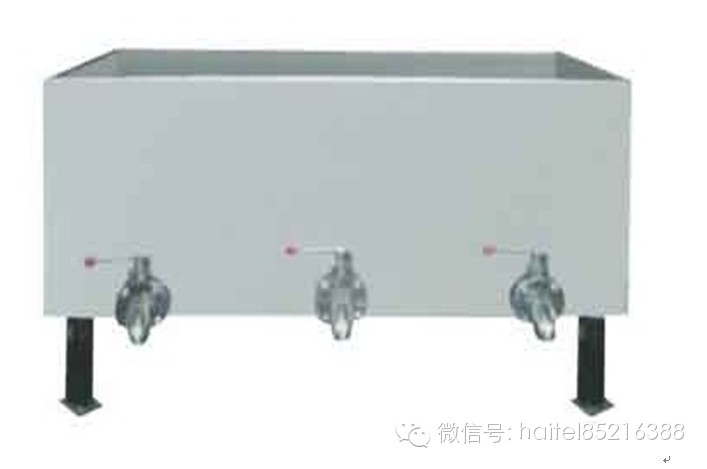 Application:
As a necessary equipment in chocolate making, melting tank is to melt oil before conching.
Main specifications:
| | |
| --- | --- |
| Capacity: | 500L |
| Electric heating power: | 15kw |
| weight: | 420kg |
| Shape dimension: | 1700*800*1000 |
1-3HTL-T1000Conche (1Ton)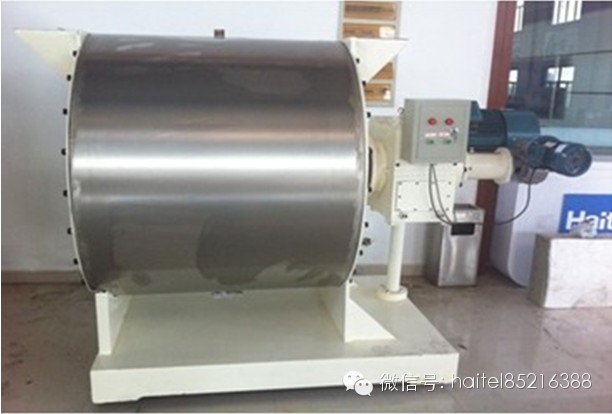 DetailedProduct Description:
1. The chocolaterefiner can grind the chocolate paste to the required fineness degree.
2. Chocolate refiner is heated by electricpower. The behind cover is installed with the ventilating fan, surface covermade by SUS304, others are made by carbon steel with paint.
3. The material of the lining bars,scrapers are 65Mn after heating treatment. It can prolong their life. The baseand gear box are cast iron, so it will be more stable and can make sure thefineness degree.
Application:
Chocolate concheis used in fine grinding of chocolate mass. It is the main equipment inchocolate production line.
Main technical:
| | |
| --- | --- |
| Type | HTL-T1000 |
| Maximum capacity | 1000 L |
| Grinding Fineness | 20-25micron |
| Main axle rotating speed | 33 rpm |
| Grinding time | 16-22 h |
| Main motor power | 37KW |
| Electrical heating power | 9 KW |
| Weight | 5350 kg |
| Dimension (L*W*H) | 3040*1900*1950MM |
1-4 HTL-T Chocolate Pump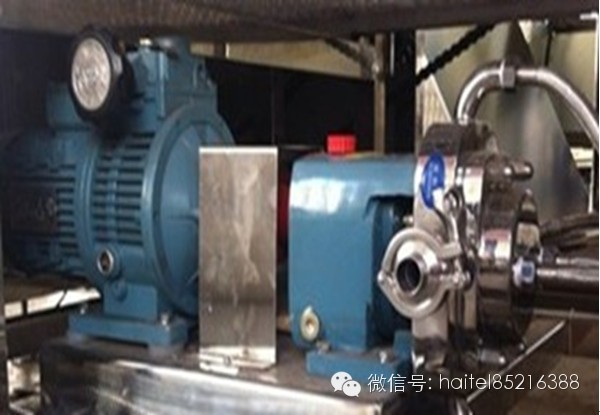 Application:
The pump is specialized for delivery thechocolate mass. The pump body is with water-circulating heat preservationsystem. Customers can choose different model according to the flow raterequired. The pump can be used individually or with other production line forautomatic chocolate mass feeding.
Main technical:
Flow rate: 35L/min
Delivery lift: 8 m
Rotational speed:165-300 rpm
Power: 1.1 kw
Caliber: 40 mm
1-5 HTL-2000L Holding Tank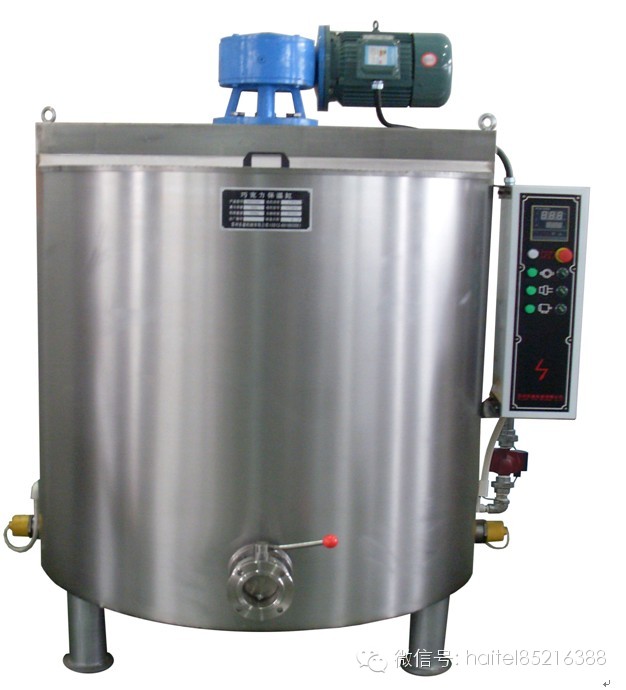 Application:
Chocolate holding tank is to store chocolatein working process after conching with automatic temperature control. Ascustomer's needs, there are 2—10 tones holding tanks available.
Main technical:
| | |
| --- | --- |
| Max capacity | 2000L |
| Stirring speed | 22.5 rpm |
| Main motor power | 2kw |
| Electrical heating power | 7.5kw |
| Heat power | 3kw |
| Weight | 1500kg |
| Dimension | ф1700×2100mm |
1-6 Oats Conveyor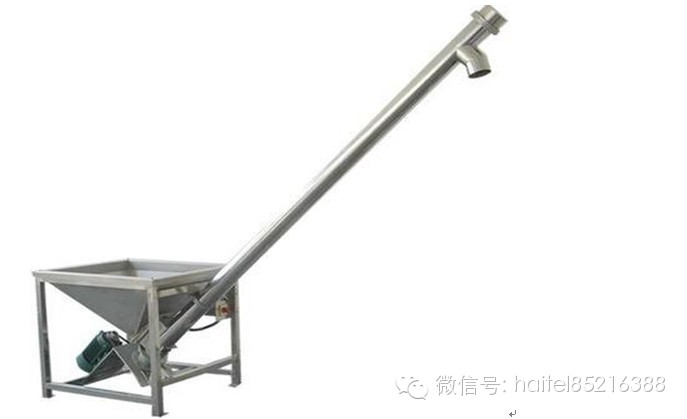 Features
This machine adopt screw conveying material,and the storage can be vibrated . it is suitable for conveying various powderand little pellets
Technical specification:
Lifting capacity: 1-10 ton/hour
Lifting height: 3m-20m
Lifting volume: 3 Cubic meters/hour
Specification: Making according to thespecifications of the buyer
Material: Carbon steel, stainless steel
Power: 750w
1-7 Full Automatic OatsChocolate Forming Line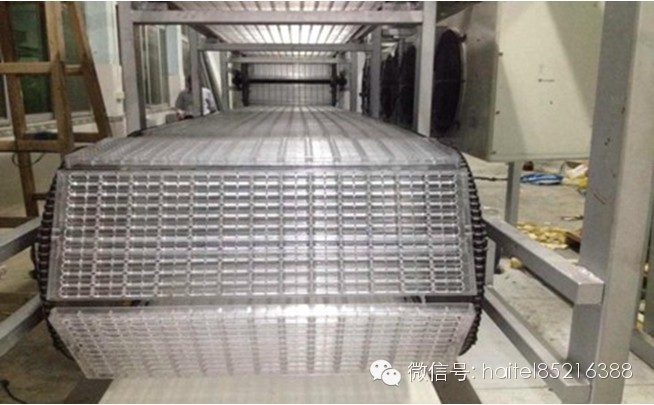 Application:
This machine is improved basedon introduction of foreign technology. It uses double pump and double materialmixing. It fully uses frequency control and PLC human-computerinterface control. This makes it more advanced and more reasonable.
Characteristics:
Thismachine can produces more kinds of shapes and designs, such as round, square,half-round,half-cylinder shapes. It is equipped with high-performancefrequencyconverter. It has convenient speed adjustment with high efficiency and stableperformance. This machine can realize automatic feeding material, automaticflatting, cooling, and automatic demoulding. It has big production capacity,high efficiency and can save labors.
Main technical:
Mouldssize:400*300*35mm
Productioncapacity:24 ton/8h
Totalpower:12KW
Dimension(L*W*H):7600*1000*1200 mm
1-10 Oats Chocolate Hoister
1-11Oats ChocolateTransportation and Allocation Machine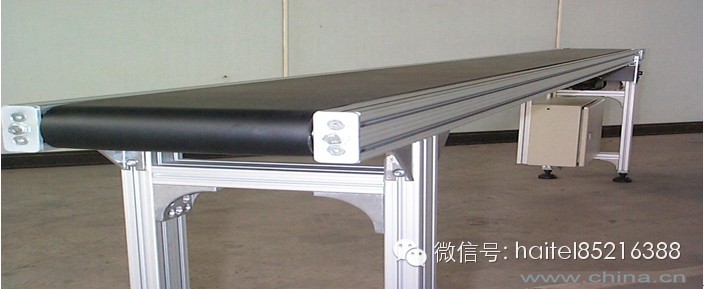 1-12 HTL-A800Full-Automation High Speed Pillow Type Candy Packing Machine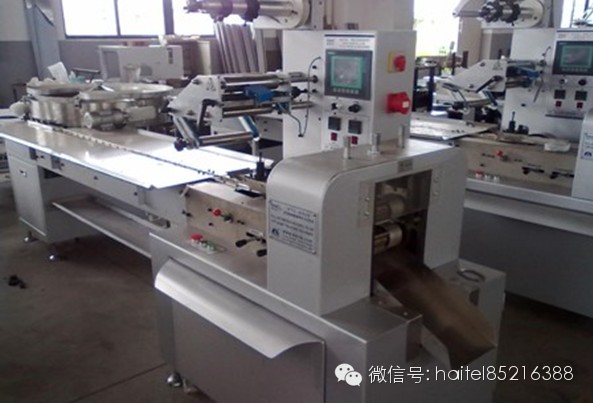 Characteristics:
1. It's use servomotor, flexible baglength cutting, operator needn't to adjust the unloading working, saving timeand films.
2. Human-machine operation,convenient and quick parameter setting.
3. Self diagnosis failure function, clearfailure display.
4. High sensitivity optical electric colormark tracking ,digital input cut positionwhich makes the sealing and cutting more accurate.
5. Separate PID control to temperature,suitable for various packing materials.
6. Stopping the machine in selectedposition, no sticking to the knife and no waste packing film.
7. Simple driving system, reliableworking, convenient maintenance.
8. .All the controls are achieved bysoftware, convenient for function adjusting and upgrading.
Application:
It is a high speed packing machine forall kinds of variant candy such as square, ball, round, column, button, ellipseand regular piece of candy.
Main technical parameter:
| | |
| --- | --- |
| Mode | HTL-A800 |
| Candy size | (L)=10~55mm, (W)=10~30mm, (H)=4~25mm |
| Packing speed | 200~1000 pcs/min |
| Film width | ≤180mm |
| Voltage | 380V/50Hz |
| Total power | 4.5 KW |
| Dimension (L*W*H) | 3200×1200×1500 mm |
| Total weight | 900 kg |
1-18OatsChocolate Finished Products Conveyor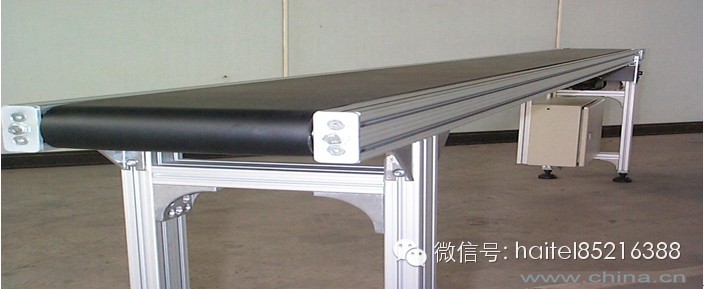 1-22 HTL-V420Vertical Automatic Packaging Machine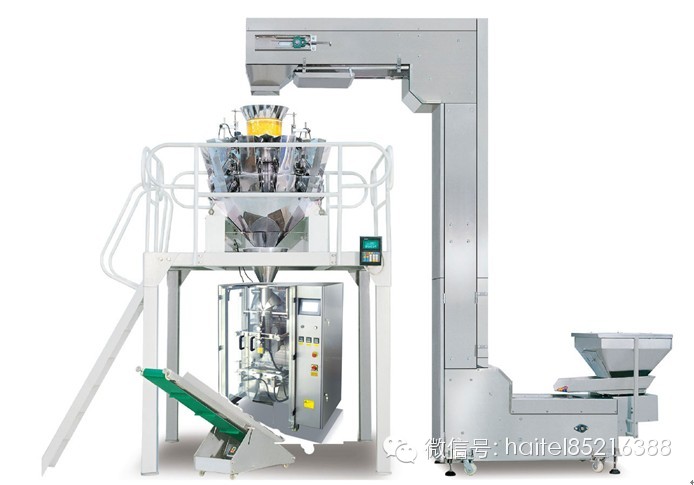 Characteristics:
PLC control with stable, reliable biaxial highaccuracy output and color touch screen, bag-making, measuring, filling,printing, cutting, be finished in one operation.
Separate circuit boxes for pneumatic control andpower control. Noise is low, and the circuit is more stable.
Film-pulling with vacuum double belt: less pullingresistance, bag is formed in good shape with better appearance. Belt isresistant to be worn-out.
Double servo control, high precision orientation,size more nicely.
External film releasing mechanism: simpler andeasier installation of packing film.
Adjustment of bag deviation just needed to becontrol the touch screen. Operation is very simple.
Close down type mechanism, defending powder intoinside of machine.
Multihead weighter measuring, packing weight more precision,product cost more low.
Application:
It is suitable for packing of several ofgranule, slice, stripe, such as candies, potato chips, shrimp chips, jelly,peanut, hardware, etc.
Main technical:
| | |
| --- | --- |
| Model | HTL-V420 |
| Bag length (mm) | 80~300 |
| Bag width (mm) | 50~200 |
| Max width of roll film (mm) | 420 |
| Packing speed (bags/min) | 30~60 |
| Measuring range (ml) | 150~1200 |
| Air pressure (Mpa) | 0.65 |
| Gas consumption (m³/min) | 0.3 |
| Power voltage (V) | 220V |
| Power (KW) | 2.2 |
| Dimension (L*W*H) (mm) | 1320*950*1360 |
| Weight (kg) | 540 |
Configuration:
| | | |
| --- | --- | --- |
| No. | ITEM | BRAND |
| 1 | PLC TOUCH SCREEN | VELEN/TAIWAN |
| 2 | PLC | SIEMENS/GERMANY |
| 3 | SERVO MOTOR | SCHNEIDER/GERMANY |
| 4 | HORIZONTAL CYLINDER | AIRTAC/TAIWAN |
| 5 | VERTICAL CYLINDER | AIRTAC/TAIWAN |
| 6 | CARRY FILM CYLINDER | AIRTAC/TAIWAN |
| 7 | CUTTER CYLINDER | AIRTAC/TAIWAN |
| 8 | ELECTROMAGNETIC VALVE | AIRTAC/TAIWAN |
| 9 | COLOR CODE PHOTOELECTRICTY | KOREA/AUTONICS |
| 10 | SWITCH POWER | MINGWEI/TAIWAN |
| 11 | SOLID STATE RELAY | YANGMING/TAIWAN |
| 12 | FRL COMBINATION | AIRTAC/TAIWAN |
| 13 | MID-RELAY | OMRON/JAPAN |
| 14 | TEMPERATURE CONTROLLER | KEYANG/CHINA |
| 15 | ACCESS SWITCH | OPTEX/JAPAN |